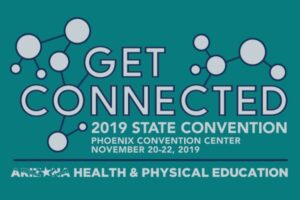 Exhibitor Shoutouts
84 days! Wait! What? Only 84 days until the 2019 Arizona Health and Physical Education State Convention is here! That may seem like plenty of time, but for those of us working hard on a daily basis to bring you the best show yet, it will be here way too soon. We have 71 amazing sessions, 2 top-notch keynotes and one blow out social! But wait, there's more! We have several exciting exhibitors ready to show you their wares.  Let's take a look at who we have so far:
Two partners who have gone above and beyond are The Dairy Council of Arizona and Step It Up Kids. Both of these exhibitors have also agreed to sponsor parts of our convention activities. The Dairy Council is sponsoring the food for our Honor and Recognition Night at The Children's Museum of Phoenix. The Dairy Council and Pat Johnson are partners that are always there for us. "Hey Pat, how would you like to present at a workshop?" "Sure!" Always the response from Pat. The Dairy Council of AZ does amazing work for our schools with the Fuel Up to Play 60 program. Be sure to stop by her booth. Step It Up Kids is a new partnership we have just established. They are the organization running one of our new fundraisers Game On! Jason Markus has made an impact in the short time we have been working together. Jason can answer any questions you have regarding the newest fundraiser, be sure to see him at his booth.
Ready to see the latest and greatest in physical education equipment? US Games and Gopher Sport will both be on hand to help you find what you need to supply your classroom. Be sure to say hi to Danny Radd and Andy Tupy when you stop by their booths. 
Pickleball, need I say more? The latest rage in net sports will be well represented this year in the exhibit hall with both USA Pickleball Association (USAPA) and e1 Pickleball. Steve Manolis and Tanya Mooney will be sure to help you with all of your pickleball questions. 
My friend Lois Mauch will be sure to hook you up, literally, to the latest in student assessment using heart rate monitors. IHT has a fantastic line of monitors that will help you assess students in a much truer way. Let her show you how.
Did you know Arizona is hot? Just kidding! I know you do. Arizona State Standards have added sun safety. The SunWise program is a program that can give you a multitude of resources to help you teach your students to be safe in the sun and heat. Ginny De La Cruz can show you all of the resources available to you at the SunWise Booth.
Tennis anyone? Our friends at the United States Tennis Association- Southwest will be happy to show you their curriculum and equipment packs. Ashley Portwood will be manning the booth to lend you a hand.
A returning exhibitor and definitely a hit with all of last year's attendees is Urban Heart Designs with laser printed water bottles. This year you will be able to pre-order on their website and your bottle will be ready for pickup at the convention. Stay tuned for more information on how to pre-order.
New to the exhibit hall this year is I AM 360, an inspirational clothing company you are sure to love. Their positive quote t-shirts will leave you feeling good and we are excited to have them and Elena Porter with us. 
Healthy Lifestars works to combat childhood obesity. Courtney Wilson will show you their program and how they are working towards that goal.
Looking for a new home? Todd Talbot loves working with teachers to help them find the home that is right for their budget. Todd has been a regular at our Convention so please stop by and see if he can find you that dream home. 
That is just a sample of our exhibit hall. Look for the next edition of "Exhibitor Shoutouts" coming your way soon and see you in November! Click here https://azhpe.org/state  for registration and information. Be sure you are logged in with your account to register.