The question hit me kind of hard and I started to tear up a bit. My answer surprised me: "I hope they say I was nice."
Growing up, I had a pretty bad experience in PE class. First, my asthma was so bad in elementary school that I usually couldn't participate, so I felt left out.
I could participate more in middle school and high school, but I was a skinny, unathletic, shy kid who was often bullied. I was called names, punched, kicked, and thrown into the shower while wearing my PE uniform.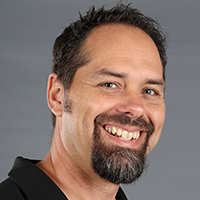 Dan DeJager
Dan DeJager is a university lecturer, curriculum writer and teacher in Sacramento, CA. He has taught diverse groups of students in a variety of settings. In 2019, he was named SHAPE America National High School Physical Education Teacher of the Year. He can be contacted through Twitter @thepechallenge or by email at dddejager@yahoo.com.