Arizona Future Professionals
Meet Your Representative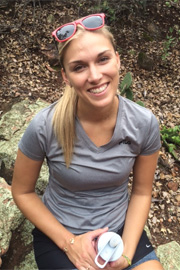 Hi there. My name is Kayla Warren and I plan to advocate for our PE profession and its necessity in our Schools. As I learn more about the profession, I become more passionate about ensuring that my students are going to stay healthy for life. I am honored to be your State Student Representative for Arizona Health and Physical Education.

Currently Im a Senior at Northern Arizona University where I major in K-12 Physical Education and have a minor in Biological Sciences. I love being active and playing a variety of sports. Especially those that focus on team building and problem solving. I love the outdoors and enjoy hiking, biking, camping, snowboarding, and water sports.

In addition to my duties as your student representative, I am also the president of the NAU SHAPE club (Students of Health and Physical Education). We participate in community education events to help our youth and their parents understand the importance of Physical Education and Health. I hope that these experiences will make me ready to enter the PE profession after I graduate in the spring of 2017.

As a student in the PE program, I feel that during your college years are a crucial time to participate in professional development and attend Conferences. This is the time that professional development is the most beneficial and networking will help your future. My advice to students is to get out of your classrooms and meet new and experienced people in the field.
Apply Now to be The 2017 Arizona Health and Physical Education Student Representative
Qualifications:
Must be a current student member of Arizona Health and Physical Education.
Must be a undergraduate or graduate student in good standing with a college or university in the state of Arizona.
Must be a resident of the state of Arizona.
Must be a student through the entire calendar year of tenure. (Sorry spring 2017 grads)
Click here to apply now!